BioFit Performance
We have the highest quality service and our facility is brand new and incorporates the latest science in the industry. We are experienced, certified coaches, looking to give our expertise to help people in achieving a healthier lifestyle.
We know that personal training has become a luxury and most people cannot afford it. On the other hand, cheaper alternatives like CrossFit, orange theory or spin classes don't give you the custom experience and superb results that BioFit does. This is the reason why our classes are designed in such a way that you get all the benefits of personal training and group training. Our classes have a ratio of 1:6 coach per person max. We offer both Strength and conditioning classes that our coaches and yourself will talk about and see what YOU need, to reach YOUR goal. We do not do cookie cutter fits all programs.
Here at BioFit, we dedicate a lot of our time and follow scientific-based research to create every session the best workouts depending on what level we coach's think you belong to. That is why our training can provide for both beginners and advanced trainee. Our philosophy consists of training and lifestyle. We teach you skills that will allow you to live healthier, feel better, move better and recover faster.
Our system is based on seven pillars: Release, Warm-up, Mobility/Correctives, Reactive (power), Strength, Conditioning, and finally Recovery. Each of these components is part of our programming and we encourage you to try our intro special to see for yourself what BioFit can do for your health and wellness.
Continuing Education & Expertise
All coaches have a master of science degree and are certified strength and conditioning coaches that keep up with continuing education yearly to stay up to date on new research and topics.
Creating a Healthy Community
Not only are we the best at what we do but our commitment to making our community healthier is a primary goal. The sense of being part of our "tribe" and show them that we care is what differentiates us from the rest.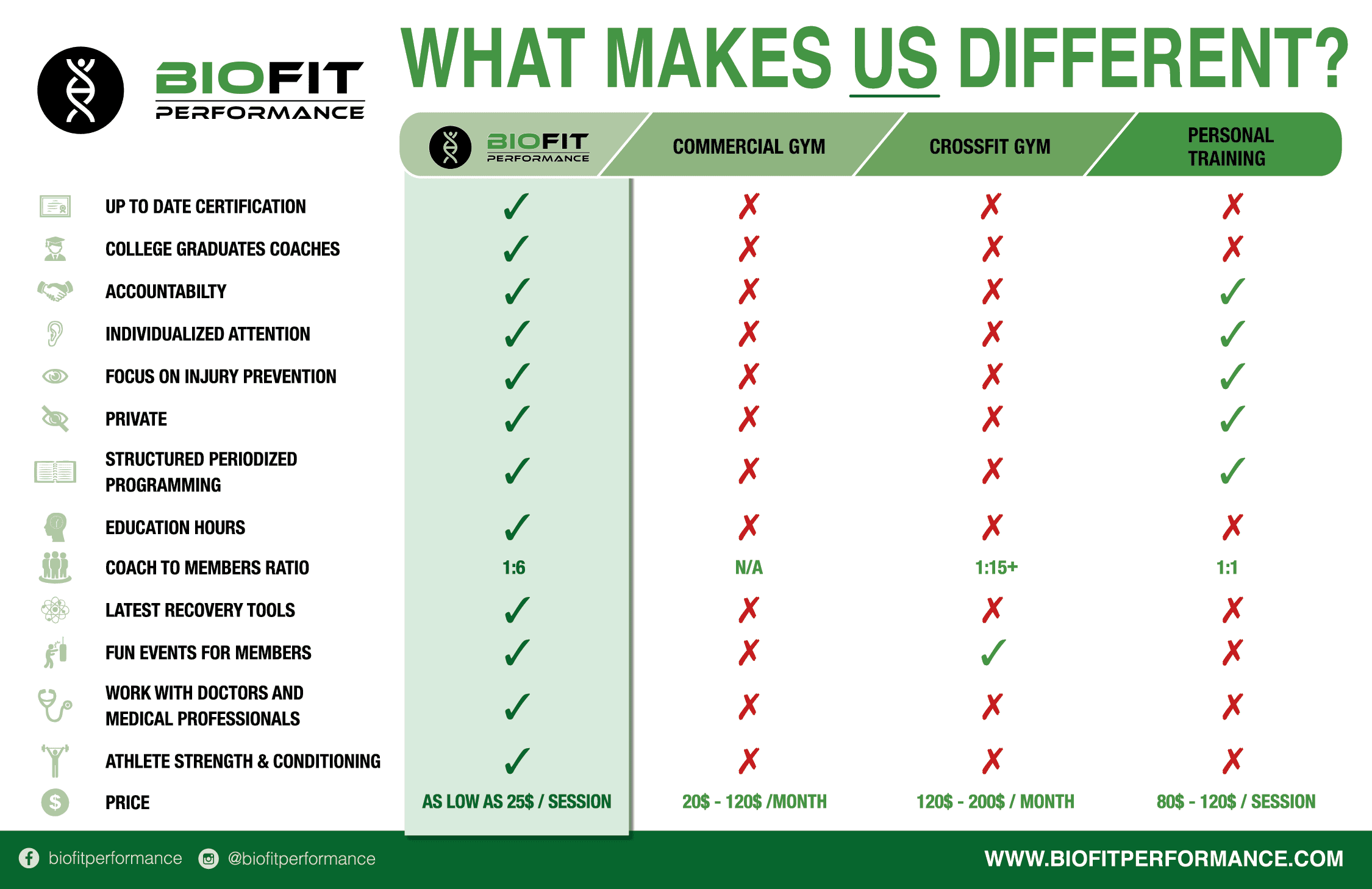 CHECK OUT SOME OF OUR TRANSFORMATIONS